Irck de la Hutte du Berger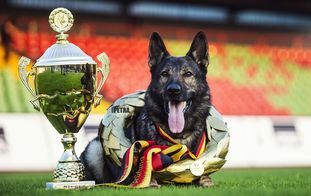 繁殖:

毛種:

短毛

Bred in:

出生日期:

01.04.2013 (7 年, 4 月)

肩高 / 體重:

60 厘米 / 32。50 公斤

晶片號碼:

只供註冊會員觀看

血統書編號:

VDH/SZ 2301806

第二血統書編號:

LOF 670506/0

犬種組織:

只供註冊會員觀看

繁殖名銜:

angek.Lbz., HD-ZW 87 (02/2020)

選美評分:

V

工作名銜:

只供註冊會員觀看

健康證明:

只供註冊會員觀看

犬主:

只供註冊會員觀看

繁殖人:

只供註冊會員觀看
!!!Qualitätsröntgen!!! Irck ha... 更多

15

60905
WD-Health: Health results of Irck de la Hutte du Berger

On working-dog the health data are taken very strictly.
Therefore it is possible to show the data verified by working-dog.
Green labeled results are checked, respectively occupied and can not be changed. Black marked entries are unaudited.


DNA-Profile
DNA available
(available)


Lumbosacral transitional vertebra


Osteochondrosis dissecans (OCD)


Elbow Dysplasia (ED)


Hip Dysplasia (HD)

11.11.2008

VDH/SZ 2237440

只供註冊會員觀看

HD/ED normal

29.09.1999, SZ SZ 2053150

只供註冊會員觀看

HD normal / ED fast normal

30.03.2006, SZ 2182632

只供註冊會員觀看

HD/ED normal, Rücken o. B.
13.07.2006

LOF 1 BA 593345/52823, 914835

只供註冊會員觀看

HD/ED normal (Ausland)

17.09.2000, SZ 2072254

只供註冊會員觀看

HD a normal(france)

30.05.2002, SZ 2152973

只供註冊會員觀看

HD (a6)

Myriam Touchette

配種日期:

只供註冊會員觀看

只供註冊會員觀看

出生日期:

只供註冊會員觀看

只供註冊會員觀看

這窩的幼犬數量:

只供註冊會員觀看

生於:

26.11.2013

工作名銜:

只供註冊會員觀看

Britney Pelletier

配種日期:

只供註冊會員觀看

只供註冊會員觀看

出生日期:

只供註冊會員觀看

只供註冊會員觀看

這窩的幼犬數量:

只供註冊會員觀看

生於:

15.07.2015

工作名銜:

只供註冊會員觀看

Marc-André Lauzon

配種日期:

只供註冊會員觀看

只供註冊會員觀看

出生日期:

只供註冊會員觀看

只供註冊會員觀看

這窩的幼犬數量:

只供註冊會員觀看

生於:

18.01.2018

工作名銜:

只供註冊會員觀看

sybile grenier

配種日期:

只供註冊會員觀看

只供註冊會員觀看

出生日期:

只供註冊會員觀看

只供註冊會員觀看

這窩的幼犬數量:

只供註冊會員觀看

生於:

23.01.2015

工作名銜:

只供註冊會員觀看

Mike Virk

配種日期:

只供註冊會員觀看

只供註冊會員觀看

出生日期:

只供註冊會員觀看

只供註冊會員觀看

這窩的幼犬數量:

只供註冊會員觀看

生於:

10.07.2017

工作名銜:

只供註冊會員觀看

Lee Hanrahan

配種日期:

只供註冊會員觀看

只供註冊會員觀看

出生日期:

只供註冊會員觀看

只供註冊會員觀看

這窩的幼犬數量:

只供註冊會員觀看

生於:

24.09.2014

工作名銜:

只供註冊會員觀看

An Le

配種日期:

只供註冊會員觀看

只供註冊會員觀看

出生日期:

只供註冊會員觀看

只供註冊會員觀看

這窩的幼犬數量:

只供註冊會員觀看

生於:

11.02.2013

工作名銜:

只供註冊會員觀看
An Le

郵編:

只供註冊會員觀看

城市:

只供註冊會員觀看

只供註冊會員觀看

國家:

只供註冊會員觀看

生於:

11.02.2013

工作名銜:

只供註冊會員觀看

Ajay Singh

郵編:

只供註冊會員觀看

城市:

只供註冊會員觀看

只供註冊會員觀看

國家:

只供註冊會員觀看

生於:

22.08.2017

工作名銜:

只供註冊會員觀看
Success analysis of Irck de la Hutte du Berger

best results at:

Rank 1, SV Bundessiegerprüfung 2017 - IPO 3

latest result at:

Rank 1, SV LGA (LG11) 2019 - IGP 3
全部 (15)
國際 (1)
全國賽 (4)
地區性 (10)
Meeting Irck and Devil-Dragon

Züchter Martin Lacko aus der Slowakei mit Irck am 02.07.2019

OG Elm Quali für LG -A- A 100, B 97, C 96 = 293

My Friend Gus, Policia local Gijón, aus Spanien ??. Mating Irck and Orkis Del Xixon

LG OG 2019 Steinbach

LG OG 2019 Steinbach

LG OG 2019 in Steinbach

LG OG 2019 in Steinbach