Arno van Gelders Spijker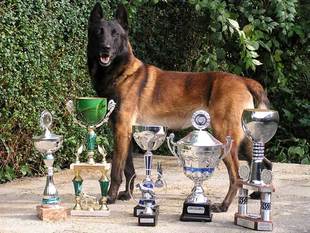 繁殖:

毛種:

馬令華

Bred in:

出生日期 / 逝世日期:

14.05.1999 / 29.02.2012

肩高 / 體重:

未指定

厘米 /

未指定

公斤

晶片號碼:

只供註冊會員觀看

血統書編號:

NHSB 2253058

犬種組織:

只供註冊會員觀看

繁殖名銜:

工作名銜:

只供註冊會員觀看

健康證明:

只供註冊會員觀看

犬主:

只供註冊會員觀看

繁殖人:

只供註冊會員觀看
Farewell, Old King...
Foundat... 更多

15

39519

名:

Alex

姓:

Vyatkin

街道:

郵編:

城市:

國家:

電話號碼:

電子郵箱:

網頁:
show kennel

還未儲存
WD-Health: Health results of Arno van Gelders Spijker

On working-dog the health data are taken very strictly.
Therefore it is possible to show the data verified by working-dog.
Green labeled results are checked, respectively occupied and can not be changed. Black marked entries are unaudited.
17.12.1994, VDH/DMC 94/262

只供註冊會員觀看

HD-B


04.05.1991, NHSB 1769654

只供註冊會員觀看

27.10.1994, NHSB 1968220

只供註冊會員觀看

Success analysis of Arno van Gelders Spijker
全部 (15)
國際 (3)
Semi-International (3)
全國賽 (9)
Arno offspring bred by Vyatkins' Malinois - training. In order of appearance: Glock, Mad Max, Glock, Leon, T-Rex, Primo, Leon, Glock, Gunslinger (young dogs from 2 months to 2.5 years old). Training Director – Alex Vyatkin. Part 1.
Original artwork, used w permission

Original artwork, used w permission

@ 8.5 years old

at 11.2 years old

Still so much in love with his work at 11.2 years old

"The Old King" @ 11.2 years old

Doing what he loves best at 11.2 years old

This is Arno during the year we have met him first, photo courtesy "de Alphaville Bohemia"

Arno @ 10.5 years old

Arno @ 10.5 years old

Arno @ 10.5 years old