Elvis von Hängelen City




繁殖:

毛種:

馬令華

Bred in:

出生日期:

11.06.2010

肩高 / 體重:

62 厘米 / 32 公斤

晶片號碼:

只供註冊會員觀看

血統書編號:

SHSB 693419

犬種組織:

只供註冊會員觀看

工作名銜:

只供註冊會員觀看

健康證明:

只供註冊會員觀看

犬主:

只供註冊會員觀看

繁殖人:

只供註冊會員觀看
4.10.2015 FCI- Weltmeister Mon... 更多

23

7915
名:

Anne (Nanou)

姓:

Tissot

街道:

郵編:

城市:

國家:

電話號碼:

電子郵箱:

網頁:
show kennel
WD-Health: Health results of Elvis von Hängelen City

On working-dog the health data are taken very strictly.
Therefore it is possible to show the data verified by working-dog.
Green labeled results are checked, respectively occupied and can not be changed. Black marked entries are unaudited.
18.04.2001

SHSB 599084

只供註冊會員觀看

HD-A
29.04.1995, LOF 31091/4600

只供註冊會員觀看
19.02.1999, SHSB 575520

只供註冊會員觀看

HD-B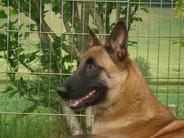 24.03.2008

SHSB 669946

只供註冊會員觀看

HD-A/A
17.03.1997, LOF 36476/5402

只供註冊會員觀看

27.03.2001, SHSB 635391

只供註冊會員觀看

HD-A/A

Success analysis of Elvis von Hängelen City
全部 (23)
國際 (9)
Semi-International (2)
全國賽 (11)
地區性 (1)
Schweizermeister SKG 2018

Schweizermeister 2018

SM 2017 garde d'objet

SM 2017 défense

SM 2017 Transport

SM 2017 artifices

SM 2016 Fluchtversuch

SM 2016 conduite

SM 2016 garde d'objet

SM 2016 garde d'objet 30 Punkte

SM 2016 artifices Elvis ist Vize-CH-Meister

3.Fluchtversuch beim Transport

garde d'objet: 30 Punkte als einziger Hund

garde d'objet

Défense: volle Punktzahl 30

artifices: volle Punktzahl 30