Baxi der Herder Legionär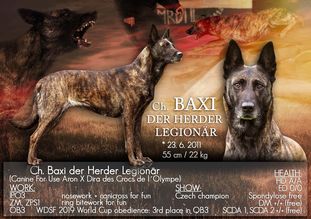 繁殖:

毛種:

短毛

Bred in:

花名:

Baxi

出生日期:

23. 六月 2011 (9 年, 8 月)

肩高 / 體重:

55 厘米 / 22 公斤

晶片號碼:

只供註冊會員觀看

血統書編號:

VDH/HSCD 11/17100178

第二血統書編號:

CMKU/HHK 407/-12/11/14

犬種組織:

只供註冊會員觀看

選美評分:

V1, CAC, BOB, res. CACIB, Czech Champion

工作名銜:

只供註冊會員觀看

健康證明:

只供註冊會員觀看

犬主:

只供註冊會員觀看

繁殖人:

只供註冊會員觀看
Heatlt results from 18.1.2019 ... 更多

17

9309
WD-Health: Health results of Baxi der Herder Legionär

On working-dog the health data are taken very strictly.
Therefore it is possible to show the data verified by working-dog.
Green labeled results are checked, respectively occupied and can not be changed. Black marked entries are unaudited.
8. 二月 2007

DKK 04873/2007

只供註冊會員觀看

HD A, AD 0/0
6. 二月 2003, NHSB 2425617

只供註冊會員觀看

A

1. 一月 2002, S 14444/2002

只供註冊會員觀看

HD A, AD 0/0
15. 四月 2008

VDH/HSCD 09/171Ü0049

只供註冊會員觀看

HD A1 ED 0/0 Rücken o. B.
27. 七月 2001, LOF 679/147

只供註冊會員觀看

HD A/A, ADN profil, Brindle test ok :Kbr/Kbr
4. 十二月 2002, LOF 802/220

只供註冊會員觀看

B/B

Renata Voldánová

配種日期:

只供註冊會員觀看

只供註冊會員觀看

出生日期:

只供註冊會員觀看

只供註冊會員觀看

這窩的幼犬數量:

只供註冊會員觀看

生於:

03.02.2013

工作名銜:

只供註冊會員觀看

Renata Voldánová

配種日期:

只供註冊會員觀看

只供註冊會員觀看

出生日期:

只供註冊會員觀看

只供註冊會員觀看

這窩的幼犬數量:

只供註冊會員觀看

生於:

24.09.2010

工作名銜:

只供註冊會員觀看

Renata Voldánová

配種日期:

只供註冊會員觀看

只供註冊會員觀看

出生日期:

只供註冊會員觀看

只供註冊會員觀看

這窩的幼犬數量:

只供註冊會員觀看

生於:

29.12.2004

工作名銜:

只供註冊會員觀看
Success analysis of Baxi der Herder Legionär
全部 (17)
國際 (2)
Semi-International (1)
全國賽 (11)
地區性 (3)
almost 8 years old

almost 8 years old